Prerequisites: Access to Zoom, Microsoft Teams, or Google Meet, or any other video conferencing platform (installed on the computer on or directly from browser).
All the participants work on the same board #
To quickly start the activity with only one room, start the activity using the Flash Start button.
This scenario can be helpful when working with a small group, making a demo, or when you want to change the design (working alone).

Alternative flow: You can access 'Quickstart' from the three dots button of each activity in the library or launchpad.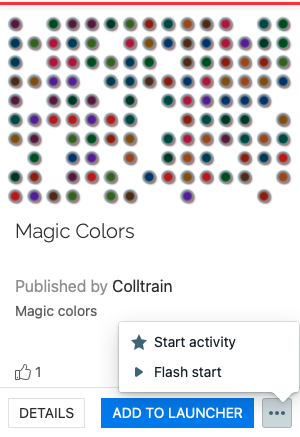 Pass the link to participants #
Copy the link from the address bar or the "Link" button in the Colltrain toolbar, and share it with the group in the chat box.

Split the group into teams and have each team work on a dedicated flipchart #
If you want to split the group into teams (breakout rooms), you can have each team working on a dedicated flipchart. To generate it,  use the "Start Activity" button. This starts the activity and automatically creates more flipcharts. Each team has a dedicated link you can copy by pressing the "Link" button under the team name. Share the link separately in the breakout rooms.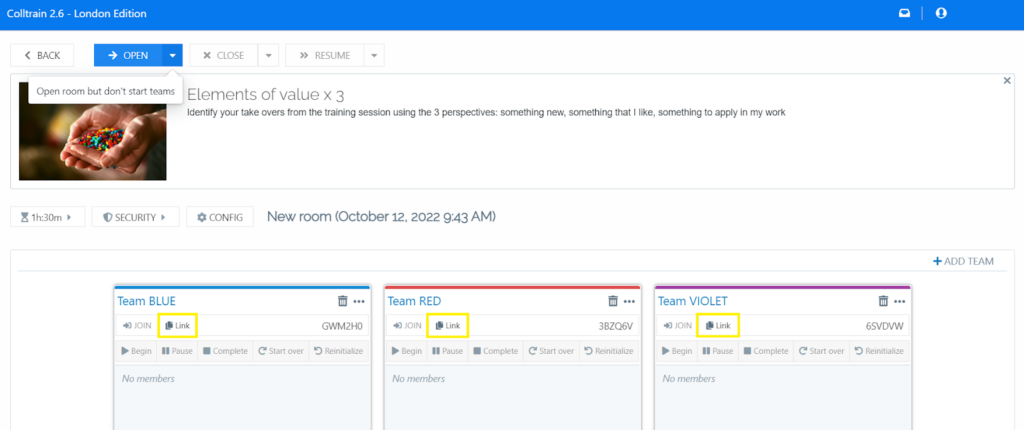 The team name can be changed by clicking on it and editing the text entry.