Hint: You can share up to 40 activities with facilitators outside your organisation with a Facilitator Plus subscription.
Prerequisites #
A Colltrain account both for you and the person you want to share an activity with
How to share an activity #
To share an activity you've designed with someone else (a colleague or friend) outside your organisation, follow the steps below:
Access the activity you want to share, from the Library or Launchpad, if you added it there. You get to this page containing all the activity's details.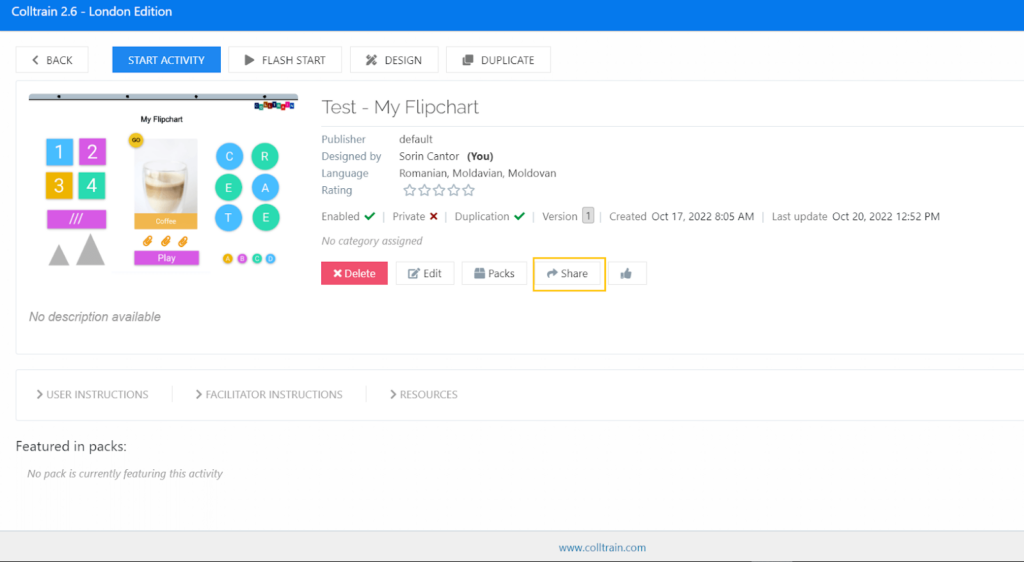 Click the "Share" button, then the "Add new shares" one on the dialogue page.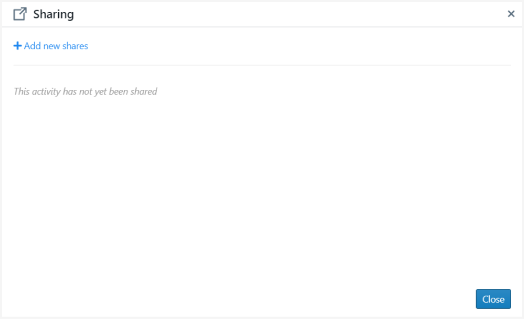 Insert the email address in the dedicated field and hit ENTER or TAB. You can add by typing or pasting up to 20 email addresses, separated by SPACE.
Below the email addresses field, there are two more options:
Check if you want to share the activity with everybody in the recipients' organisation(s)
Check to allow its duplication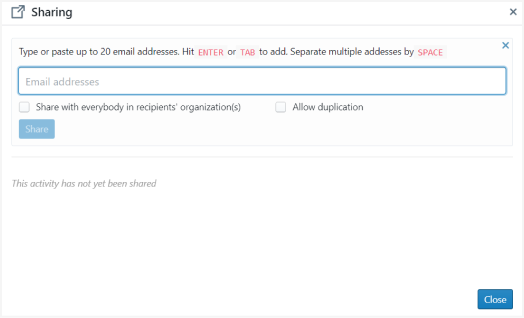 Then click on the "Share" button.
The recipient will be added to a list below these options, so you can keep track of things. Mind the sharing limitations of your Colltrain plan (more details here: "Choosing a suitable Colltrain plan")
The recipient will be notified by email that you have shared with them a Colltrain activity. They will find it in the Library tab by searching for it after its name. An alternative is to filter the activities by "Shared with me".
More on how to search for an activity here: Filtering activities in Colltrain Library.
You can edit the sharing terms at any time. Access the same Sharing section (follow the steps mentioned above).
Next to the recipient's email addresses, there are three options:
Share with everybody in the recipients' organisation(s): click on the first icon on the right to allow this type of access – the icon turns blue; remove access for those in the recipient's organisation by clicking on this icon – the icon turns grey.
Allow duplication: the same as in the case of the first option
Delete: remove access to the shared activity for that specific recipient and their organization, if this option has also been enabled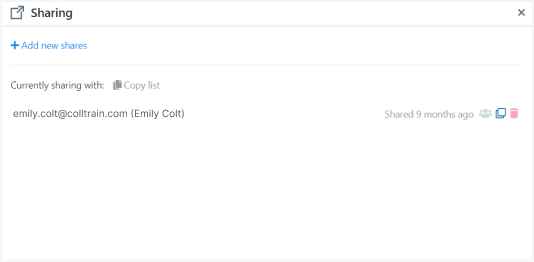 Task for you #
Experiment with activity sharing by turning on and off the sharing for a specific activity.
Tip – Choose a Colltrain user from a different organisation.